Tripawds is a user-supported community. Thank you for your support!
Today was the day! The day for water and also the first day the Ruffmaster harness didn't hurt him 🙂
Schlomo was in a good mood waking up, he dashed over to the left when we got out of the house and walked to the end of the block because he wanted to. I didn't take him any further knowing we would do hydrotherapy later.
Schlomo always liked the water but he never really went swimming by himself. He'd run into it and fetch sticks and balls but he wouldn't go swimming on his own though I always thought he wanted to and just needed a little 'push'.
A little push he got today and he adjusted so quickly, it was fascinating to watch. He started using his back legs to swim/push within the second of many cycles and he hasn't stretched out his right leg like that in a long time. He didn't seem nervous at all. He didn't frantically try to stay afloat, he found this relaxed rhythm and looked really happy like he belonged there all along. The therapist said his inner Lab was coming out which makes sense. This therapist! I gotta tell you I felt like Schlo was so supported and cared for and as if they had some innate connection and bond. It was wonderful. He trusted him completely. He even did a little thank you prayer/blessing at the end of the session and me being the Hippie I am was in utter love.
We will go back once a week, if there are weeks where I can do twice I will absolutely do that. I have to get into Manhattan with him for these which is a bit of a grind but seeing how happy this makes him, I will gladly do it as often as possible.
When we were finished they said I could get into the water with him going forward if I wanted to. DUH! Obviously I want to! What a wonderful thing to do together and learn how to help him so we can do this in any water by ourselves.
Today I feel like celebrating. I am allowing myself a glass of wine and I am celebrating this extraordinary being that is in my life. He is passed out from his work out and will probably be sore tomorrow. Right now he is sleeping soundly on his rug and his feet are moving so quickly. I always thought he was dreaming of running on the beach. Maybe he is actually swimming…
Apart from this forum and the amazing support I am so thankful to have found a good team in Vets again (or finally). With his Herbalist, his new Vet who does integrative medicine and acupuncture in house calls, the surgeon I met last week because his regular surgeon was on vacation (turned out well for us…) and today his rehabilitation Vet and the phenomenal therapist.
Here is to all of you!
Mascha & Schlomo
Rehab Advice (YES!)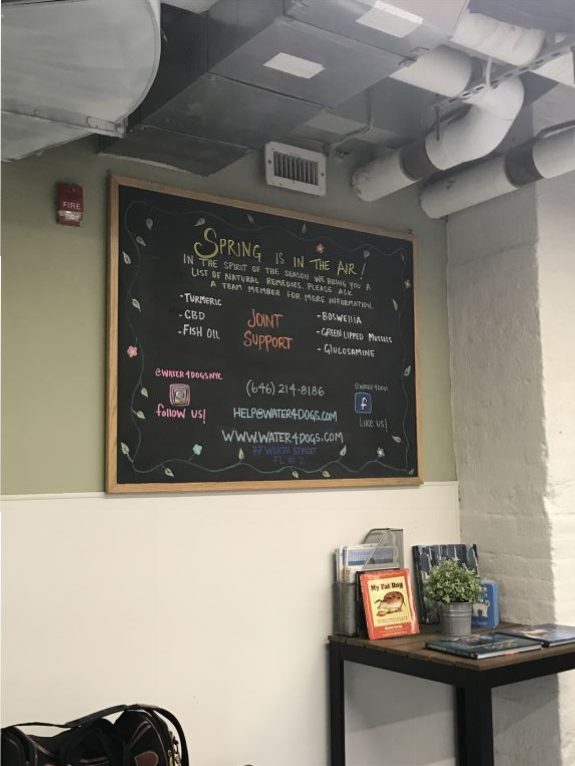 Still Pic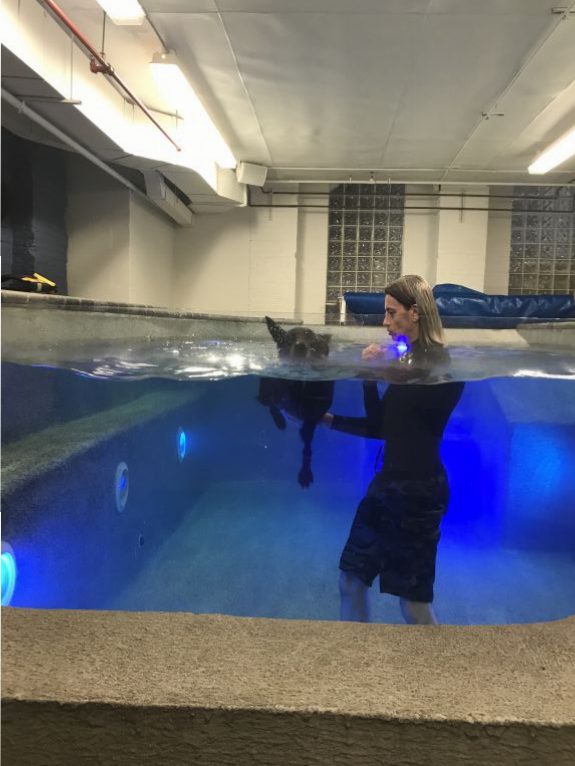 Swimming
After swim happy face (in 50 shades of gray)